About Us
Founding Members
The Co-Op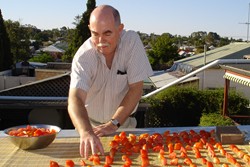 Dr Steve Flecknoe-Brown, foundation Chairman, is a physician and pathologist with a life-long interest in how good food and living well promote long life. He had been in Broken Hill for just over a year when he and Stefano De Pieri realized how much they had in common. Accepting the challenge to harness a cultural asset of his new home – the lovely, mature olive trees planted here by immigrant mine workers some 40-50 years ago, he found a group of like-minded souls to share and develop the vision of making olive oil production one of Broken Hill's leading 'new' industries.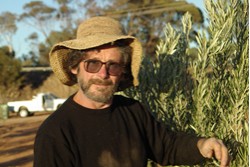 Geoff Demain is a local artist who has also shared a long-term vision for a future olive oil industry in Broken Hill. Geoff has lived here since his early childhood and worked underground before gaining his Fine Arts degree. His images decorate the labels of our local olive oils and has given us the image for the Menindee Groves label.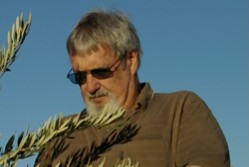 Gary Ferguson is a local-born miner
Terry Barclay, foundation Secretary of the Co-Operative, is an exploration geologist. He had long recognized the potential for this area, with its mineral-rich soils and ground-water reserves, for olive production. With his wife Diane, he is the owner of the Junction Hotel, one of Broken Hill's fine eating venues.
Randall Burt, a local chef and graduate of the Roseworthy Olive Oil Appreciation course, was a founding member. Due to other pressing commitments, he sold his shares on to Glenn Dolan, a Sydney-based solicitor. Glenn has been an enthusiastic participant in every harvest since then, and has subsequently replaced Terry Barclay as Company Secretary. Glenn has a number of contacts in the Sydney fine food establishment and will no doubt find a number of good outlets for our products as we expand.
History
Origin
Broken Hill has a great many vintage olive trees planted in the gardens and local areas around Fifty to Seventy years ago. A community roundtable discussion resulted in the decision to harvest one season's crop and give the owner of each tree a bottle of the oil that was produced. The oil first created was of an exceptionally high quality. This led naturally to ongoing development of Australian Outback olive oil.
New plantations
Encouraged by the quality and flavour of the 'Úrban Agriculture' oil, young trees were planted out in 2004. They produced a light first crop in the harvest season of 2008, with yields growing every year after that. The oil is the first of the season in Australia, producing premium olive oil at least 6 weeks earlier than any other mainland region
Equipment Upgrades
Also in 2008, Broken Hill Gourmet Products began using its own oil press to ensure the quality and freshness. Olives are still hand picked, but are taken straight to press and bottling within a few hours, unlike many other brands which are transported to the press.
Wholesale
With the gradual increase in yield, Broken Hill Gourmet Products has phased in the availablility of wholesale packaging in addition to the individual bottles.