Agriculture and Production
The Trees
The Heritage trees that produce the 'Urban Agriculture' label are in the gardens and backyards of Broken Hill. These trees are exposed to very little pollution or chemicals. However due to their being at the mercy of the elements, the crop sizes vary.
Our second source of olives is the grove at Menindee. This olive grove is cared for by local people. They dont use any chemicals or fertilizers either, do the oil is as close to pure organic as possible.
The Town Grove has been planted out on organic principles, supported by locally produced certified organic compost and recycled water from the city. No insecticides or chemical fertilizers are used
Conditions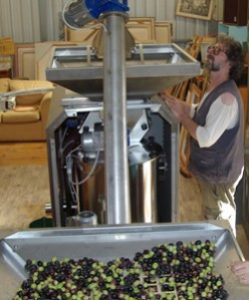 The hot dry climate of Broken Hill matures olives quickly: the harvest is ready six weeks before most other olive growing regions. This means that our first oil is made fresh at around Easter – the first on the Australian mainland, and overlapping with the last supplies from the Northern Hemisphere.
Production
We harvest the olives by hand and by pneumatic rakes. They are carefully taken to press (a genuine Campagnolo Buonolio Top Press) and pressed within 24 hours of the harvest. Other oils which might be pressed after transport have to wait much longer and can get a slight rancid odour from mould growth.
Broken Hill Premium Olive Oils by camparison are pure clean Extra Virgin quality. We also avoid filtering, which can overheat the oil and blunt its flavour spectrum. We allow the oil to settle naturally before bottling and thereby keep its full character.
.