Products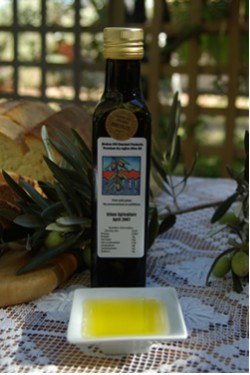 Three Labels
There is no doubting the health benefits of pure Extra Virgin Olive Oil. The rich fruity aroma, the green tint and traces of bitterness indicate high levels of health-promoting polyphenols in the Town Grove oil.
In its first showing, the Urban Agriculture label earned a bronze medal at the Mudgee Olive show in 2007.
The Town Grove received 'Two Stars' from The International Taste & Quality Institute in 2010.
Both the Town Grove and the Urban Agriculture labels are produced from trees grown in the red soil of Broken Hill, giving them a stronger backbone of flavor.
By comparison, Menindee is on a river-flat with a similar climate. The Menindee oil is lighter colored, more lemony tasting, and has a gentler aroma.
Handling
All three oils are presented in dark glass 250mL bottles to retail customers. We hope this encourages them to be opened and used while fresh. Ten litre containers are available to wholesale customers such as restaurants who should serve the oil soon after opening, so that it is shown at its best.
The care that has been taken to create this high quality product should be respected when handling it. These premium oils should be stored in a cool dry place, but not refrigerated. The high density of long-chain monounsaturated fats causes the oil to become solid at temperatures below 10 deg C: if this happens, warm it very gently until liquid again.
Serving
Although it is a delicious cooking ingredient, we recommend adding this oil sparingly at the last moment possible before serving. Moderate heat from fresh cooked food will release its fragrance without loosing the health promoting qualities.
It also adds an exotic sense to fresh cold food such as salads and antipasto when lightly drizzled over.
When used correctly and with a little experience, these oils will draw comments on the taste of the dishes which they accompany and add a warmth to the experience of a good meal.