Fresh Tomatoes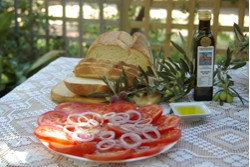 Slice 2 or 3 very ripe beef-heart type tomatoes.
Arrange them on a platter in rows alternating with fine slices of Spanish (red) onions.
Sprinkle on a little brown sugar and ground pepper, followed by a sharp Wine Vinegar and your favourite Broken Hill Gourmet Products premium outback olive oil.
Garnish with freshly-shredded basil leaves and serve as a salad on its own or with antipasto.