Dukkah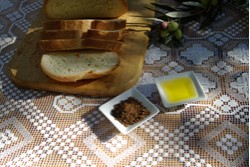 Oven roast a cup of almonds or hazelnuts. If using hazelnuts, shake them in a colander after roasting to remove any loose bits of skin.
Dry roast in a large saucepan half a cup each of coriander seeds, cumin seeds and sesame seeds: the aromas will rise and the cumin and sesame seeds will colour.
Grind all ingredients together with a teaspoon of salt in the food-processor until the mixture is a coarse powder which cakes slightly around the edges of the bowl.
Serve on a plate with chunks of crusty bread in a basket and Broken Hill Gourmet Products premium olive oil for dipping.